As you may know, we were supposed to get married in a medium-sized gathering (for 120 pax). We exerted so much effort on the preparations as it was DIY and we had a very particular "coffee" theme. Almost everything was alredy ready….until we had to be on community quarantine due to COVID. Never did we imagine that we would be getting married during a pandemic in the Philippines.
Confusion during the Community Quarantine
We didn't know what to do and I was particularly getting sad. There wasn't really a guidebook yet on getting married during the COVID pandemic as it was still April and a lot was still in limbo. After inquiring at the Philippine Statistic Authority, we were advised that we can go ahead with getting married during the pandemic — but we had to limit it to a small gathering (unlike some birthday parties out there that had lots of attendees *cough cough* Philippine Inside Joke haha) 🙂
Since there was so much uncertainty about the ECQ, we didn't know what to do. Do we push through with it with just a handful of people, or do we delay the entire thing altogether?
Deciding to Push Through with our Wedding
We were only able to decide 1 day to push through with the wedding with no fanfare at all. We only had the key elements of the program:
An explanation from the officiant on what we were doing
Ring ceremony
Bible ceremony
Exchange of vows
Marriage contract signing
Kiss the bride
Picture-taking
A quick fastfood meal c/o KFC
It was just that. We didn't need to think of a lot of things because almost everything was "on-the-day" other than the food. Speaking of food, I wanted to look for 'special' food options — like maybe ordering a Conti's mango bravo cake, or a Banapple party dish, and we even attempted to buy Vietnamese food online. After all, I read recently that among the top 3 items remembered by guests when attending a wedding is exactly that: THE FOOD.
Pressured by that fact, and by the additional fact of me being very particular with the taste of my food, we actually went through 3 rounds of food tasting with our selected caterer for our originally planned wedding.😂 We couldn't afford K by Cunanan or Bizu levels for our catering, but we still wanted to make sure that the food would taste good together & that it wouldn't be like a regular meal. To be honest, a main part of the reason is that I was concerned about what people would think of us. I didn't want people to think that we had "bad taste", or that the food was "cheap".😳
Having a Purposeful Wedding
It's my prayer request everyday that "His kingdom come and His will be done" for our wedding. And God has so creatively answered our prayer.
We got so budy with wedding preps before the COVID issue, and admittedly, even if our mouths declare that our marriage celebration is to glorify God, we didn't notice that slowly, in the small decisions, we were having a people-pleasing mindset. Instead of preparing how we will share our testimonies or how we can worship God through the wedding, we were more focused with preparations and if our logistical preparations were going to be perfect — especially with the food, even to the point of devising ways to ensure that the caterer would serve the right food. 😝
Back to the story of our COVID-time wedding, God brought me to the end of myself and my pride. Rather than what would impress others, the Lord led me to what was simple, sure, and practical. We ordered 4 bucket meals sa KFC for our "reception food".😁 Other than having advanced order placement on their website, it was a good fit because our family loves their Famous Bowl Platter.😂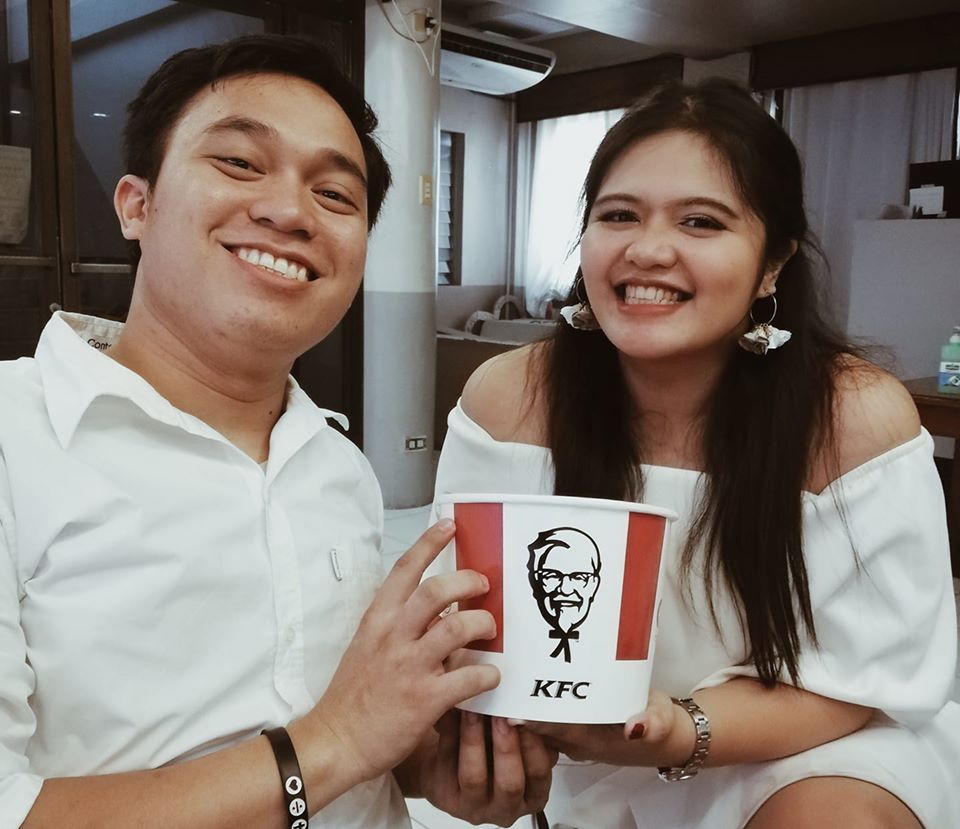 Getting married during the pandemic led us to have a VERY SIMPLE CELEBRATION. We didn't even have decent plates in the location so we had to use paper plates and some even used paper saucers😂 But I know that God was pleased because our wedding became for us a time of thanksgiving for God's goodness in our lives.
We're Grateful!
We cried BUCKETS of tears — not just for posterity's sake or to make the audience cry as well — but we were overwhelmed with God's grace and goodness for allowing our love to flourish. Nowadays, when I think back to our wedding day, I still get teary-eyed and also end up smiling. What I remember from the wedding is not the number of people who came, not how the entourage looks (whose outfits I even meticulously picked for our supposed wedding), not the decor and over-all vibe (owhich we thought about in much detail and exerted so much effort on so that it can be coffee-themed), not the like-getting professional pics and video, not the delicious food — but what I remember is how God showered us with favor to allow us to celebrate our marriage covenant during such perilous times (our officiant was able to get our marriage certificate, yehey!) and how we were able to enjoy it with special people while eating KFC chicken with our bare hands 😂🍗
They were right — even if our original plan didn't push through, our wedding still became so memorable💒❤️ God is really good.
It was saddening at first because our plans were shelved, but getting married during the COVID pandemic was very very memorable! (We even got featured in Eat Bulaga for it!)
Below is our wedding video c/o our sisters–yes, we didn't invite our already-booked official photographers and videographers to avoid to put them in any harm.