In the middle of the hustle and bustle of Marcos Highway, we found an under-the-radar coffee shop that will definitely be one of our new tambayans. Find out why it is definitely worth the visit.
Ghost Coffee Antipolo Review
Note: All photos posted here are ours. NO FILTER SO YOU CAN SEE REAL COLORS!! Pics of us without face mask was just for the photo – we were masked the rest of the time.
My husband and I were looking for a place to grab some morning coffee for Valentine's Day. we were supposed to head up to the 'overlooking' spots in Antipolo but most were fully booked. On our way 'down', still trying to hunt for a cafe, we remembered that we have yet to try Ghost Coffee just along Marcos Highway here in Antipolo, Rizal. And so, we ended up going there!
What to Expect at Ghost Coffee
Ambiance
When you see the signage outside, you'd probably think that it's a shabby coffee shop. BUT DO NOT BE FOOLED. Ghost Coffee is SO GORGEOUS INSIDE!!!! Mad props to my childhood friend Camille for the lovely interior design.
There's an indoor area with quite a number of seats — there's a table towards the back for 4 pax, some tables along the glass wall for 2 pax, and my favorite center table for 6 pax which has a gorgeous finish!
The main feature though is their outdoor area, which seems to make you forget that you're in Metro Manila (except for the noise of Marcos Highway). All the chairs and tables seem to be conversation pieces. The area is so gorgeous, relaxing and Instagrammable. Our only comment is that it would be great if there was some slight house music to drown out the car noise from the highway. Other than that though, we literally wanted to try out every seating option and take photos everywhere!!!!
GET THIS: THERE ARE ALSO LOTS OF SOCKETS IN THE OUTDOOR AREA!!! If it weren't for COVID, we'd probably end up staying here the entire day.
We also loved the 2nd floor — where they will soon open their co-working space / event hall. Very cozy and clean!
The staff were friendly and accommodating too! (And don't you just love than menu?)
PS: Even their bathroom is so homey and photogenic!
Food and Drinks
Ghost Coffee just opened this January, so they only have a drinks + pastries menu. We tried out a few items
Egg coffee – 180 pesos – 3.5⭐ out of 5⭐
Egg coffee??? What's that??? Well, that was also our question. It's drip coffee topped with egg foam!! Kinda weird right? But, it was well-recommended by the barista, so we tried it out. It tasted really good! The right amount of sweet and creamy without the need for sugar and cream. The 1.5 stars missing is for the price point due to the small size. If it were a bigger serving, this would easily get a 4.5 or a 5 even.
Dark cafe mocha – 160 pesos – 4.5⭐ out of 5⭐
I think I may have found my favorite non-black coffee drink. This was so bittersweet–perfect for those who prefer…well…a darker taste 🙂 Good serving size as well, as it was comparable with the usual coffee shop sizes.
Garlic cream cheese – 95 pesos – 5⭐ out of 5⭐
REALLY GOOD. This caught my attention at the counter, but I was sold when the barista recommended it. Thank God that we bought it cause it was SO DELICIOUS. My kind of snack / coffee pairing 🙂 Serving size was reasonable for the price — especially considering that there was a GENEROUS amount of cream cheese.
Blackout cake – 200 pesos – 3.5⭐ out of 5⭐
Natz fell in love with the cake because it was not overpoweringly sweet! A really good choice for chocolate lovers!! Again, the missing 1.5 is because of the price point as it could be a bigger slice, or maybe a little cheaper.
Overall, we liked the food and drinks! BUT, we are eager to try out their pizza and pasta soon when they get added to the menu. It might be tough to "tambay" here with just the pastries offering.
UPDATE: As of March 2021, they now serve ALL-DAY BREAKFAST! We haven't tried it out yet, but according to the barista, it's at 245 pesos a meal 🙂 Do let us know how it is when you give it a try!
Update: As of April 2021, they now also serve pasta!
Ghost Coffee Menu
Below is the latest and full Ghost Coffee menu:
Parking
There are MANY PARKING SLOTS available! They have a few outside — but if that's full, don't worry. They have more parking indoors! Natz even commented that it's quite organized! It also helps that the guard was friendly and helpful. Shoutout to Kuya Lito!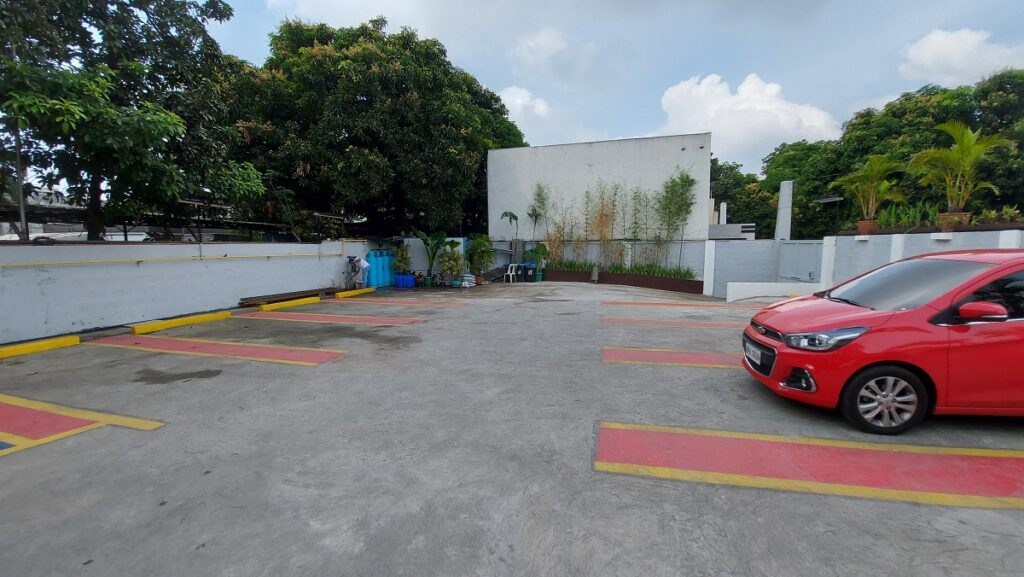 How to Go to Ghost Coffee
If you don't have a car, it's quite easy to commute as there are a lot of jeepneys that pass by the place.
We've passed by the place before, and just relied on trust ol' Google Maps to figure out how to go to Ghost Coffee.
If you're coming from Cubao / Marikina (via Gil Fernando) / Cainta, just drive along Marcos Highway (on the side of Sta. Lucia, Robinsons) and take a U-turn after Filinvest Homes and right before Wilcon Depot. Ghost Coffee will be to your right.
If you're coming from Marikina (via Masinag) or from Antipolo, just drive along Marcos Highway, and Ghost Coffee will be to your right.
It really is a no brainer to get there. BUT!!!! Their signage is quite small, so make sure to pay attention if you're near the area.
Entrance Fee and Reservations for Ghost Coffee
There's no ENTRANCE FEE since it's a regular coffee shop, but they will soon open their co-working space, which will have its own consumable fees
We were advised that Ghost Coffee is open from 7 am to 10 pm. Per the guard, they are testing the market, but are considering to open 24 hours soon. WE REALLY HOPE THAT THEY DO!!!
Not much people visit the cafe yet, so we did not have trouble getting a table even on Valentine's Day. But if you want to make a reservation, you can get try contacting them via their Facebook page.
Over-all Verdict
Ghost Coffee is a SERIOUS CONTENDER among the coffee shops here in the East Metro Manila area. After our favorite coffee shop in Marikina closed, we could not find a replacement. I'm glad to note that I think I have now found the one!!!! With the nearby Starbucks always being so full of people — I would honestly recommend that you go to Ghost Coffee instead!!! Better ambiance, more private, and comparable coffee!
Video from Outside to Inside Ghost Coffee