In case you were looking for a great date place in Marikina, or maybe something a bit classy for a family celebration, Fino Deli has probably come up as a suggestion.
We were in the SSS area on the night of Christmas, and realized that we were up for a meal! We've long wanted to dine at Fino Deli, but never really got the chance. Thankfully, there was a table available…and we were in pretty decent clothes (not our usual lounging attire haha!)…so we were able to spend our evening at Fino Deli.

Here's an honest review of Fino Deli here in Marikina.
Fino Deli Review – A Great Date Place in Marikina!
How to Go to Fino Deli
Fino Deli is not in the main foodie highways of Marikina. It's located in a somewhat secluded place in a residential area, but that's not to say that it's tough to find. It's actually easy to spot Fino Deli — and of course, everything's so much easier now with Waze and Google Maps.
If you're coming from Cubao, you can opt for the A. Bonifacio –> Sumulong Highway –> Bayan-Bayanan Ave route.
If you're coming from Antipolo, you can go through Masinag then Lilac Street and it's pretty nearby.
Reservations for Fino Deli
As we mentioned, we just tried visiting Fino Deli out of random whim and were favored to get a table. On any other day though, especially for special occasions, we'd recommend getting a reservation. You can contact them via mobile at 0906-3884248 or via phone at (02)8997-5024. Else, you can just send them a message on Facebook.
During this COVID season, they are normally open from 11:30 am to 9:00 pm. Don't forget your face mask and face shield! Their set-up is pretty spacious inside Fino Deli, so you won't expect to bump into other people. Don't be surprised as well, but they have acrylic dividers up on each table.
What to Expect at Fino Deli
Parking
We went to the place in our motorcycle, but there's ample parking space – so no worries if you're bringing a car. There's available parking at Fino Deli for cars and motorcycles for no extra fee.
Price
We know how important it is for a Fino Deli review to give you a glimpse of the corresponding wallet damage. That said, expect to shell out from 400-700 pesos per head for food at Fino Deli. The lower end of the range is for pasta and pizza, and the higher end is for the main courses. Serving size is reasonable for that price, to be fair. There are also some platters to share at around 300 to 600 pesos each. Prepare at least 200 pesos per head for each round of drinks.
NOTE: Not sure if it's just due to COVID but their wines are only by the bottle nowadays.
Also, for comparison, our total bill when we dined was around 2,600 pesos for one dish each, a cheese/cold-cuts platter, and 2 rounds of drinks each.

Food and Drinks
Fino Deli has a nice range of food available — they have pasta, pizza, entrees, platters to share, and some options for dessert. No Fino Deli review is complete without our verdict on the food and drinks we ordered:
Creamy truffle pasta – 350 pesos – 4⭐ out of 5⭐
I am very particular about my truffle pasta, so I was a bit scared to order this. Turns out though, I had nothing to worry about. Fino Deli's creamy truffle pasta (which is pretty new in the menu) is so generous in both quantity and taste. The noodles were al dente, and the cream and truffle taste was thick and flavorful! My husband and I were able to share the dish because it was quite filling.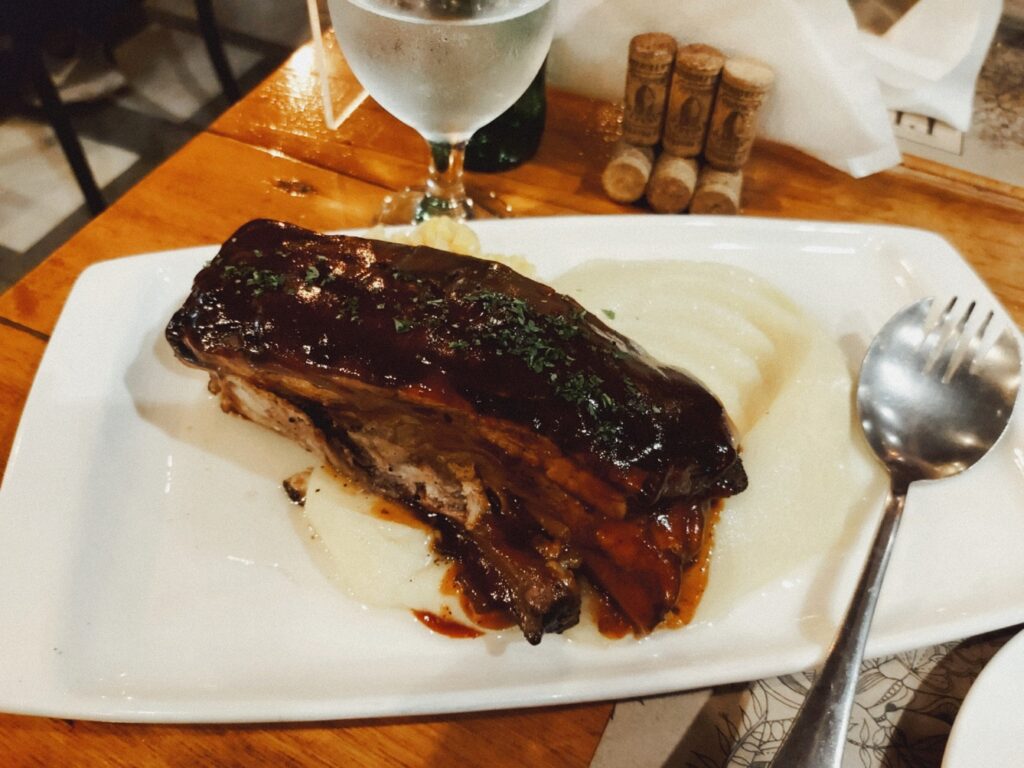 Fino Deli ribs – 649 pesos – 3.75⭐ out of 5⭐
We were a bit unsure about what "main course" to order for my husband as he was pretty hungry. We didn't want to get the usual stuff that I could cook at home so we tried out the Fino Deli ribs, though its price point was something that we usually wouldn't approve off normally. It turned out to be a good choice as we were shocked with the serving size when the meal arrived. It was huge, and we were also able to share. The meat is also tender and tasty – though I'd probably appreciate more of the sauce. The main thing I'd improve though is the mashed potato as it tasted bland and quite gooey.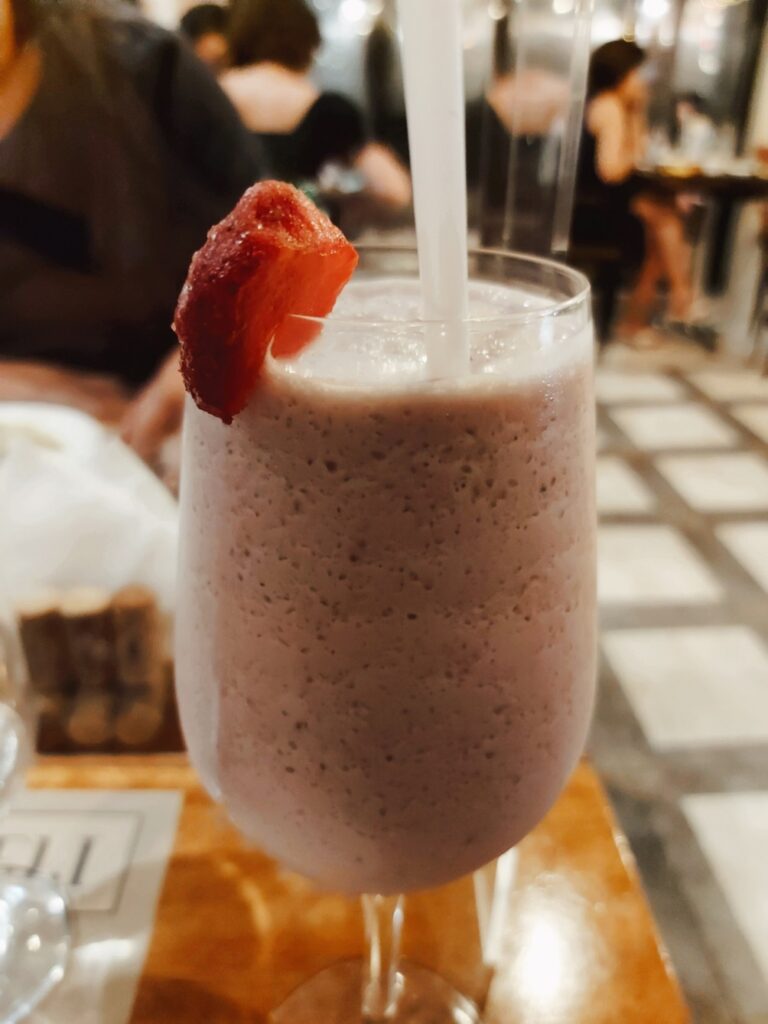 Strawberry merlot (wine milkshake) – 195 pesos – 5⭐ out of 5⭐ (MUST TRY!!!!)
Ahhh, why did I just discover you now? 🙂 Even up to now, I remember the taste of this drink in my mouth. Imagine a really good strawberry milkshake that ends with a bang–by bang here, I mean the great aftertaste of merlot. I downed an easy 2 orders of this, and I was ready to have more (if I hadn't spent so much on other stuff already). I love how it won't make you too woozy with that right amount of buzz. This is definitely a Fino Deli star!!!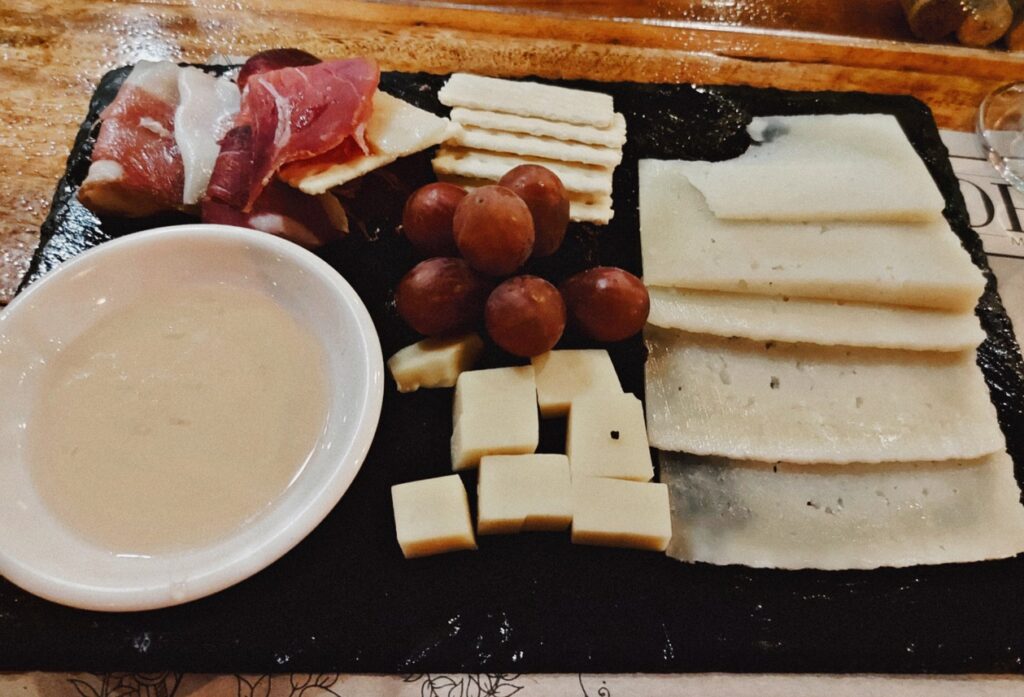 Cheese and cold cuts platter – 620 pesos – 4⭐ out of 5⭐
I instantly loved Fino Deli the moment I saw that they had manchego and gruyere! It took me an hour to decide if we were going to get a platter because of the price. But, my husband was able to convince me that it was fine 'cause it was a date night, so off I was to ordering!!! Each order of a platter allows you to pick at most 5 items from their array of cheeses and cold cults.
Each serving is 30 grams, so that brings you to a total of 150 grams. I ordered 3 servings of manchego, a serving of gruyere, and a serving of Italian prosciutto. It was served with some crackers, grapes and raisins. The cheese and cold cuts selection was pretty extensive, and the taste was of good quality too! I'm quite particular about my cheese so it was good to taste that they were probably sourcing from somewhere good.
Ambiance
The ambiance at Fino Deli is perfect for dates and special family celebrations. We visited at night — which was perfect, because the lighting is more evident (lots of yellows / mood lighting) and instantly gives you an upscale feel. The noise is also just the right amount — not too quiet to the point that it's too formal, but not too rowdy to feel like a food court.
It was very romantic, which is why we ended up staying for hours — and this is probably also the reason why there was a marriage proposal happening at another table.
Service
Servers are very attentive and friendly — we were attended to each time we needed them for a menu request, another order, or even just some questions. You get a complimentary small plate of bread with balsamic vinegar and olive oil, which they give out pretty quickly upon placing your order. And, they easily refill your glass of water — which to me is an indication of good and prompt service.
Surrounding Area
Fino Deli itself is not nestled in the main street, but Ayala Malls Marikina is just nearby. There are also a lot of restaurants a few minutes away from the place, in case you're just planning to visit for wine and cheese.