We HIGHLY recommend doing goal setting for couples especially if you're already married or you're at least getting married soon! Just a few months back, my husband and I got around to doing some goal setting as a couple and it really helped us to understand why we became a couple.
We'd like to share with you a FREE WORKSHEET with examples from our own goal-setting. This is highly recommendable especially for Christian couples as we also set some goals in terms of our spiritual walk and our ministry.
Why Goal Setting for Couples is Important
1 – Purpose and Direction
As mentioned above, goal setting for couples is important as it helps give you purpose and direction. Why did you become a couple? What benefit would it bring to you as individuals, to you as a couple, to the society, and to God's Kingdom now that you are together? Doing some goal setting as a couple can help bring you back to your "WHY" and can help you see how God can use your relationship / marriage for His glory.
May it be our desire to leave behind a legacy that will change generations!
2 – Focus and Pace
Managing life as an individual is complex enough. Now imagine doing it for two people (and even more, if you have children)! Goal setting for couples helps us to focus our energy and effort on things that matter and to make sure that you do stuff at the right pace.
We can attest to this because we fell into the trap early on in our marriage that we want to do everything that we can do at the same time — take classes, lead Bible studies, start a business, rear a child, build a house, etc. Because of proper goal setting, we became more realistic about our limits yet at the same time had "God space" to trust that He will help us with our goals.
3 – Teamwork!
Instead of competing with one another, doing goal setting as a couple can help reorient you both to be on the same team! Achievements are now joint achievements and challenges are now joint challenges! You don't have to "win" against your partner anymore, as you'll be working towards the same goals.
How to Do Goal Setting for Couples (with FREE Worksheet and Examples)
1 – Set a time
Set a time to do goal setting as a couple. Set aside a few hours in a day when you're both relaxed and rested and not pre-occupied with your other responsibilities.
2 – Prepare your worksheet and pray together
Download the worksheet at the bottom of this blog post. Pray together as you start setting your goals. Let God lead you and direct you — submit and commit your plans to Him, and allow Him to show you His purpose on why you became a couple.
3 – Define areas where you want to set your goals
What areas do you want to consider for goal setting as a couple? If you're a Christian couple like us, you may want to go beyond just money and health.
Here are the areas we've considered for ourselves — you can also see these in our Goal Setting for Couples worksheet:
Ministry
Career
Passion/ Side Hustle
Health
Learning
Giving – we put this as a separate item from the "Financial/Material" area as this one is more focused on money going out, rather than going in
Marriage – this is separate as well from "Family" goals as we want to build our marriage too, and not just our rearing of children
Family
4 – Define your over-all goal for each area
Why do you want to succeed in this area? What is the over-all goal you want to achieve? Think big! A key component to goal setting for couples is to know your "why". Is it just for personal glory or for vanity? This part will help make sure that you are setting goals not just for achievement's sake.
Note: Don't be too specific in this part yet. This normally would be an all-encompassing / high-level statement.

Here is an example — you can also see these in our Goal Setting for Couples worksheet under the "My-over-all goal for this area is to…" column: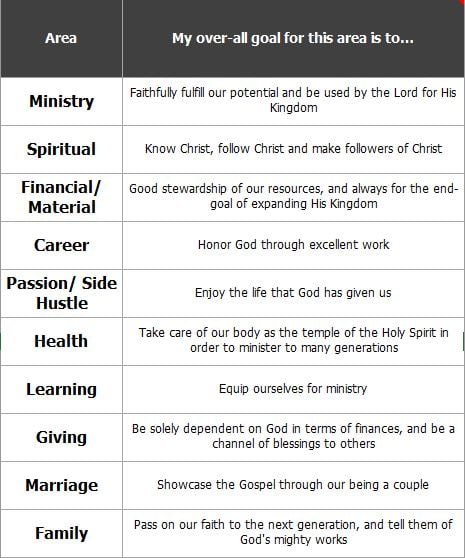 5 – Define your three-year objective for each area
This is where you start becoming more specific in your goal-setting as a couple. Think long-term first and list down what you want to achieve for each area in 3 years. Include those that you should have completed consistently over the years and those that will only be done by then.
Include objectives as individuals that may directly affect the other person (e.g. education, career, etc). Also, you have to make sure that it's ALIGNED WITH THE GOAL you stated in step #3. This is how this goal setting for couples worksheet helps — it reminds you to stick to the big picture goal.
Here is an example — you can also see these in our Goal Setting for Couples worksheet under the "In three years, we will…" column:
6 – Define your one-year goal
What measurable things would you like to achieve in each area in 1 year? Make sure that it's aligned with your GOAL for that area
And for some cases, these can directly help you attain your 3-year objective. (For example: If you want to have your own house built in 3 years, then in 1 year, you should have started to purchase a lot or applied for a loan, etc.)
Note: This is something that you will do every year for 3 years, as this Goal Setting for Couples Worksheet is set for a 3-year view.
Here is an example — you can also see these in our Goal Setting for Couples worksheet under the "This year, we will…" column of the Year 1 tab:
7 – Define the regular tasks you need to take to help achieve one-year goal, three year goal, or the over-all objective
What measurable things can you do regularly (daily, weekly, monthly, occasionally) to help you attain your over-all goal and 3-year and 1-year objectives? This is what you will monitor frequently.
Here is an example — you can also see these in our Goal Setting for Couples worksheet under the "Regularly, we will…" column of the Year 1 tab: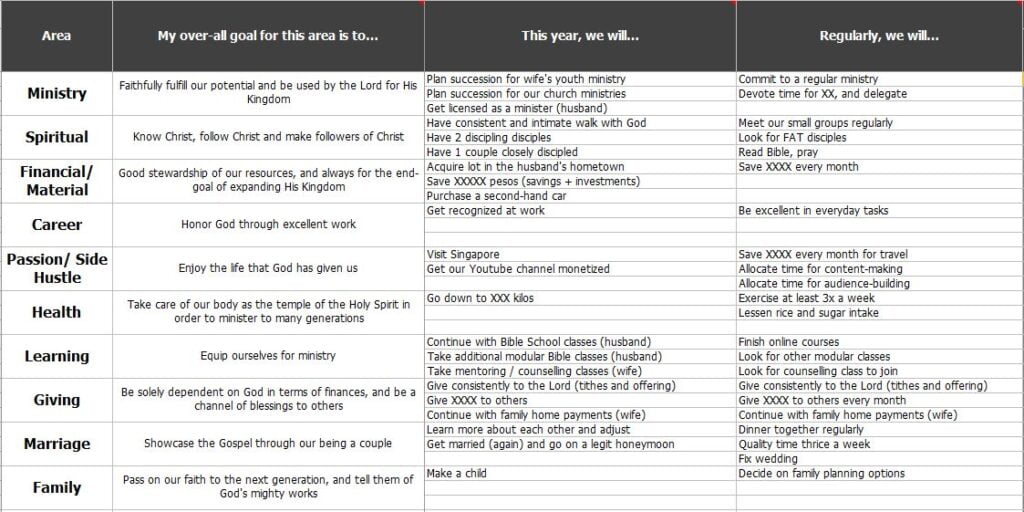 8 – Monitor regularly
Regularly revisit your regular, 1-year and 3-year objectives. Mark them in the document with their corresponding status:
Not Started – Initial status of all tasks
On Track – Activity is in progress and you are on track to complete it
At Risk – Activity is in progress, but there is a likelihood for delay due to some factors
Off Track – Activity is off track / delayed based on the plan
Completed – Task / objective is done and achieved
In the Goal Setting for Couples Worksheet, the cells have been programmed to be colored automatically based on your selected status.
GREY – Not Started
GREEN – On Track
YELLOW – At Risk
RED – Off Track
BLUE – Completed

Update this regularly and revisit every year to put in your Year 2 and Year 3 goals. Once you're done with Year 3, just start the template anew 🙂
Get your Goal Setting For Couples Worksheet for FREE!
As promised, we are giving you a goal setting for couples worksheet for free! Just subscribe to our blog using the form below and you'll get it in your inbox immediately.
Did you get an error saying that you can't submit the form because you've already subscribed before?

 Plug in your details above, click on that link to update your profile and then check your email! You'll get a note asking you to update your preferences. Just select the COUPLEGOALSETTING giveaway, and you'll get your FREE download via email!

You can also visit the Redefining Us Freebies site!