We recently headed to ArtSector Gallery and Chimney Cafe 360 in Binangonan, Rizal. Is it worth the visit? Let's find out.
ArtSector Gallery Review – Is It Worth The Visit?
Note: All photos posted here are ours, and have NOT been filtered to show you the real colors of the place and the views 🙂 Pics of us without face mask was just for the photo – we were masked the rest of the time.
My husband and I decided to go somewhere else, and it's really the first time we've been "out" since the lockdown. We didn't want to go somewhere too crowded, and I was looking for a breath of fresh air. I've been mostly stuck at home for the last 7 months–so we decided to go to ArtSector Gallery and Chimney Cafe 360 in Binangonan, Rizal.
How to Go to ArtSector Gallery
We just relied on trust ol' Google Maps to figure out how to go to ArtSector Gallery.
IMPORTANT NOTE: There are two pins in Google Maps for ArtSector Gallery. If you don't want to get lost like us and have to cross mountains in unknown roads, make sure to select the correct one which is this pin:
If you're coming from Cubao / Marikina / Marcos Highway, you can opt for the following routes:
Felix Ave. –> R-5 route
Sumulong Highway –> Manuel L. Quezon Ext. route
Felix Ave. –> R-5 –> Manuel L. Quezon Ext. route
ArtSector Gallery is located inside a private subdivision, so you'd have to leave a valid ID at the guardhouse upon entering. You then need to present your ArtSector Gallery pass and stamp when you leave.
There are TWO entrances to Eastridge — one in the Binangonan side, and one in the Angono side. You should be able to go to ArtSector gallery whichever side you take.

Entrance Fee and Reservations for ArtSector Gallery
Since we visited on a weekday, it cost us 200 pesos each just to enter the place. It's NON-CONSUMABLE–meaning, it's just the entrance fee & you'd have to pay for food and drinks separately should you wish to buy some. There were some visitors in groups when we were there who decided to leave without going in because of the entrance fee. They figured that if there were 5 of them going in, that's already 1,000 pesos that they could use for food instead. You may want to read through the entire post to know if it really is worth the visit for you.
During this COVID season, they are open from Tuesdays to Sundays from 2 pm to 6:30 pm and NO RESERVATIONS ARE REQUIRED–unless you're availing of their drone package or you're holding an event.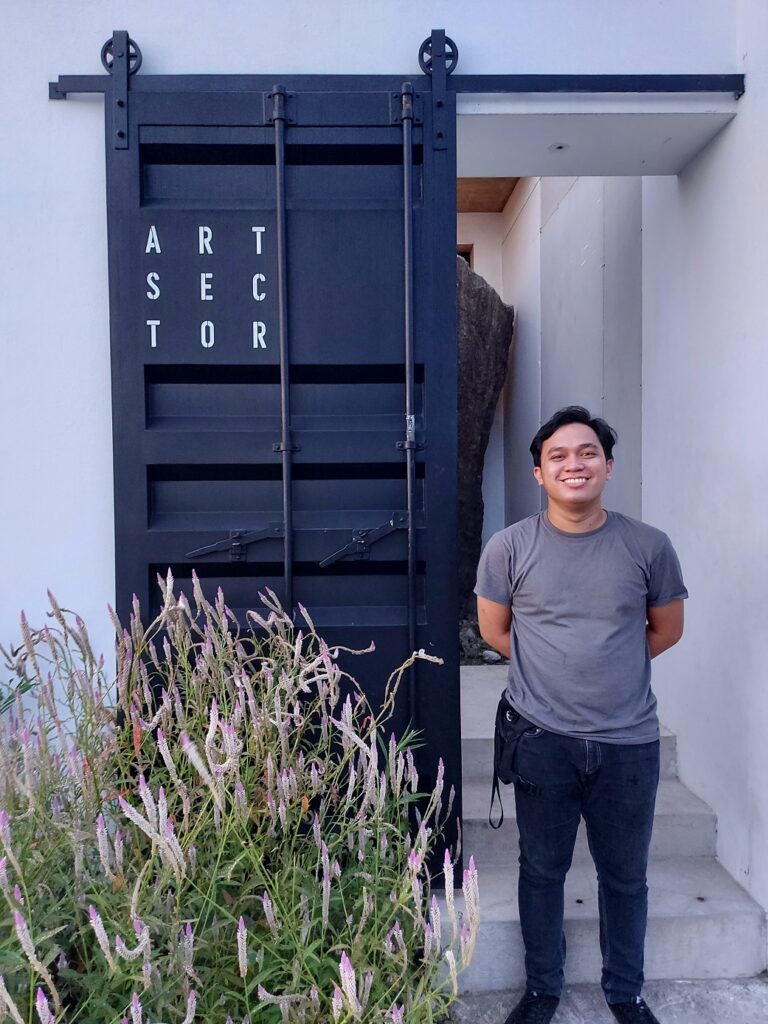 They only allow 25 people at a time–but it felt like there were more when we were there. In any case, you can wait for people to leave. During weekends, you can get and ArtSector entrance pass online 2 days before your visit. You can get a slot by contacting them on their Facebook page. f Tip: You may want to secure a slot if you're coming from some faraway place!
What to Expect in ArtSector Gallery and Chimney Cafe 360
Surrounding Area
The place is in a pretty liblib area and there are no attractions in the immediate surroundings. Well, that is other than the Eastridge Shooting Range that we saw while getting lost. There are other places to visit in Rizal though so you can take further tours if you have time.
Parking
Parking is available for cars and motorcycles for no extra fee. You NEED to have your own vehicle with you if you plan to visit here. It's nestled pretty deep into Eastridge and it might be challenging to commute.
Food and Drinks
Since ArtGallery also promotes itself as a cafe (Chimney Cafe 360), we were looking forward to having some usual "cafe food". We ordered an iced latte, an iced cappuccino, chicken a la king on melba toast, cinnamon roll with cream cheese, and bottles of water.
You need to place your ordered upon entering ArtSector Gallery, and then you'll get called in 30 minutes to claim your food. You can eat from level 2 to the rooftop. Process is a bit tedious, but I understand that it's likely due to health protocols. Though I wish they could get a bit more creative as I'm sure there's some other way to manage this.
When we were there, it seems like they were undermanned as the person at the entrance collecting the entrance fee, checking the temperature, etc was also the food cashier. (I assume this is just due to the quarantine and not the common setup?)
Here's our verdict on the food and drinks we ordered–
Iced coffee – 135 pesos each – 2⭐ out of 5⭐
We're pretty particular about our coffee, and according to my husband, his drink tasted like Nescafe with milk. I tried mine and I thought it tasted a bit bland. I gave 2 stars because the drinks were served cold–which was a bit refreshing–and because mine had some cinnamon on it. That said, you can get better coffee from elsewhere (even from McDo and Dunkin' Donuts).
Chicken ala king on melba toast – 59 pesos – 0⭐ out of 5⭐
Do not buy this item! It's sooooo small that I think I could finish it in one bite. It's just like shreds of chicken on the pwet of tasty bread. I'd give it one star if it had some good sauce like a decent chicken ala king, but alas, it didn't.
Cinnamon roll with cream cheese – 99 pesos – 1⭐ out of 5⭐
Avoid this item too–or maybe just get the plain variant which is 40 pesos less. The cream cheese on top did not really taste like cream cheese–it was more buttery and cheesy than "cream cheesy", and the bread itself was tough to eat. It probably was some old stock, but it tasted like cinnamon roll that you could buy from supermarkets.
They have other food, and I saw a lot of people ordering pizza to share (we didn't get one 'cause we just had a hefty meal at home)–but it seems to be the most reasonable to order.
Overall though, we didn't like the food and drinks that we ordered. To us, ArtSector Gallery and Chimney Cafe 360 is not a food spot, if what we had was representative of their menu. It might be better to eat elsewhere before you visit, or even after.
Artwork
If you're a fan of local contemporary art, then you'd love the works featured in ArtSector. I've seen a lot of reviews mention that there is a Pinto Art Museum-vibe at ArtSector, but set some realistic expectations as this is in no way as extensive. The gallery at ArtSector can maybe be compared in size to one of the galleries at Pinto Art.
One of the things that I like about Pinto Art is that you can browse through the pieces in piece. But, I did not get the same experience at ArtSector. Not sure if it was just the crowd who was there when we went but there was so much hustle and bustle! People were walking around to find an Instagrammable spot, the staff were shouting out names of people who can claim their orders, etc. Some of the art pieces were also a bit too close to the tables for dining! We found it awkward to go view them because it meant having to disturb other people.
I particularly loved the astronaut pieces and that Emoticon one, but to be honest, the "gallery" side of ArtSector Gallery would be good for just one visit. Pinto Art, for example, is a place I've been to, but I'd be happy to go back anytime. If you're really looking to go to a place for the art, then you might feel bitin here.
Ambiance
As mentioned above, I was hoping for a chill / relaxed vibe at ArtSector Gallery–but that was not the "feel" of the place at all. It was busy and people were quite chatty. Crowd is pretty mixed too. When we went there, there were three other couples, two families, and maybe three barkadas.
If you're wondering what to wear, I'd suggest something comfortable but maybe two levels up from a pambahay. (That is, if you wanna take nice pics.) There's no dress code though. In fact, I saw someone in super short basketball shorts and one with a noisy pair of slippers 😛 (Not my preference, but I'm sharing so you know what to expect.)
Look and View
The interiors of the place were very nice and Instagrammable with an industrial feel! Think white walls, huge doors, black chairs, and yellow-bulbed lights. We witnessed the transition to evening at ArtSector and we'd say that it's even lovelier at night when the lights are on. Even the view of the building from outside was spectacular. On a normal non-COVID day, it would probably be good to host an intimate dinner party there!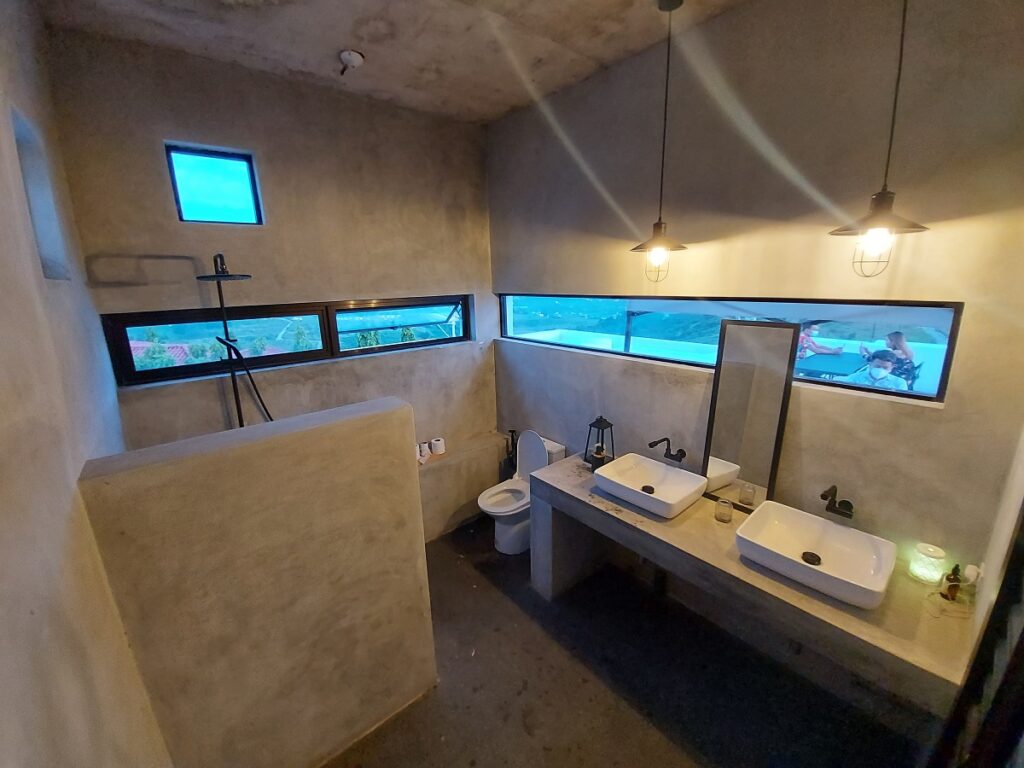 BUT! The main reason one would probably visit ArtSector Gallery is for the view. It's great to know that I could see a beautiful view of waters, greenery, clouds, the sky, and some city lights just an hour away from Manila.
The view from the roofdeck is a sight to behold–especially when sunset hits! You can watch the sky turn into a lovely shade of indigo. I guess with the extra elevation from being on the roofdeck, you can take pictures and videos with less obstruction. The roofdeck's not that big though–contrary to the fish-eyed photos you've seen here or on Facebook.
Take note though that even if you don't enter ArtSector Gallery, the view outside is as good too! Natz and I actually spent some time on the fields outside of ArtSector Gallery to take photos.
What would probably be good would be to bring a drone to make the most of the location and the sights. Sadly though, you'd have to pay a corkage fee for using it. ArtSector Gallery also has their inhouse drone guy–and we were actually kicked off the roofdeck for around 15 minutes because he was having a shoot with a family. If you have lots of spare money for that, then go ahead and avail of it 🙂
Over-all, I think this is where ArtSector Gallery should make their play. The view from their location is easily the best thing about their place! I'm actually keen to know if other business-minded folks are considering to buy a lot nearby and put up something similar.
So, is ArtSector Gallery worth the visit?
I appreciate ArtSector Gallery and Chimney Cafe 360 trying to be many things at once–an art gallery, a cafe, and a sightseeing deck. But I suggest that they focus their efforts and be good at it. If it's really an art gallery, then lessen dining spots and maybe just sell food and drinks that won't need a sit-down. If it's really a cafe, then don't ask for an entrance fee and maybe just require a consumable amount. If it's really a sightseeing deck, then make those balcony and roofdeck views the main attraction and improve their look to match the pretty interiors.
I'd say go and visit it even at least once. That is if it wouldn't take you more than an hour or two to head to the place. Time your stay in such a way that you get to witness the sunset and enjoy the city lights at night.
Skip the food and drinks, and attempt to visit on a slow day to get to enjoy the artwork in the gallery. Really though, you're pretty much paying for the view. And if you've been to other places that had similar sights, it might not wow you so much. But, it's good enough as a breather from the tall buildings and pollution of Metro Manila.
If you're from somewhere far away though, then you may just want to skip this one and pick a different date spot.