We see it on social media pretty frequently, especially if you're a part of Christian circles–a top view shot of a couple holding hands, drinking coffee, with an open Bible. In this blog post we answer the question: SHOULD DATING COUPLES DO DEVOTIONS TOGETHER?
Should Dating Couples Do Devotions Together?
It's so exciting to be in a relationship with someone who is a follower of Christ! To share the same faith and values with the person you are dating or you are married to is a thing to celebrate, after all. It's great that you get to grow in faith together and consciously put God in the center of your relationship.
Because of what we see online (be it via Pinterest, Instagram, or even our own Facebook feeds), it has somewhat become "relationship goals" for Christian couples to have quiet time together. Is it really recommendable? Should dating couples read the Bible together? Should dating couples do devotions together?
We air some of our sentiments below, which are of course not the 'hard rule' but are our suggestions based on learnings and experience…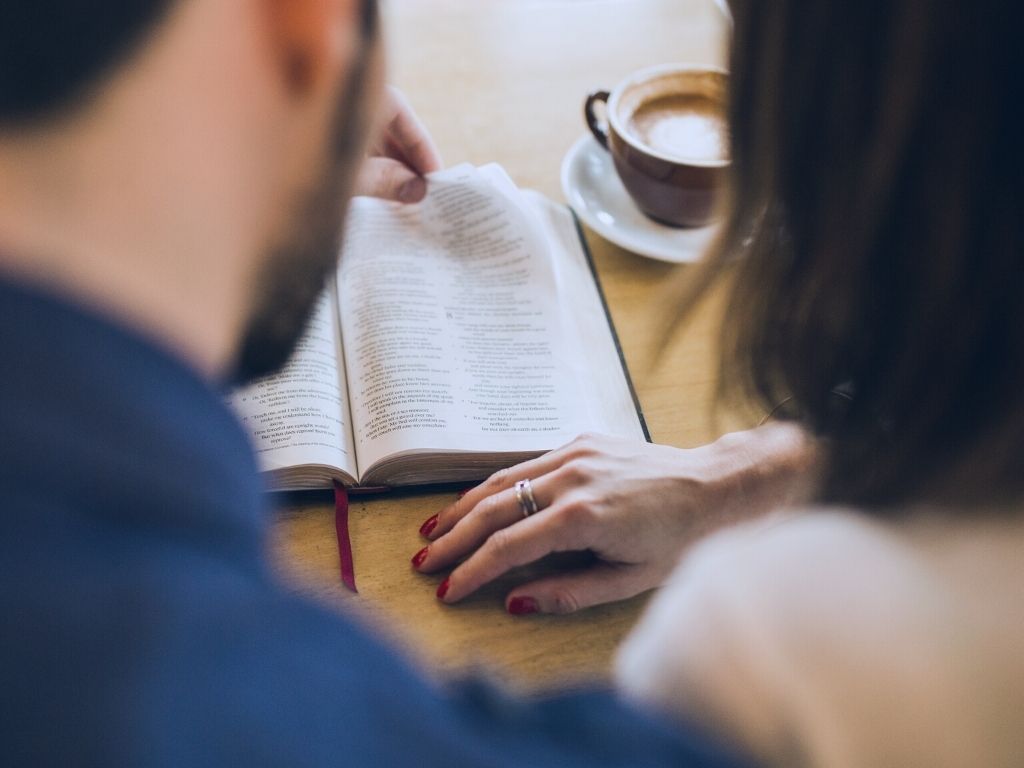 YES, Dating Couples Should Do Devotions Together…
One one hand, yes! We do recommend that dating couples SHOULD read the Bible together and reflect on God's Word as a couple. There are a lot of benefits to doing devotions together, and we've listed some here:
Doing devotions together can help you grow intellectually and spiritually through sharing of wisdom and experiences
Doing devotions together can help you be reminded regularly of your priorities and purpose as a couple
Doing devotions together can help you be centered on God and His Word. More time meditating on God and His goodness can help take your minds off of temptation and worldly things, which is helpful especially for dating couples!
Doing devotions together can help encourage and spur each other on, especially if feeling unmotivated
Doing devotions together can help give you not just QUIET TIME together but also QUALITY TIME together!
Doing devotions together can help DEEPEN the relationship and allow you to get to know one another beyond the giddy and romantic gestures
We could still list down a whole heap of benefits, but ultimately, we want to say that IT IS GOOD to be able to develop on your spiritual walk hand-in-hand with your partner. So go ahead, yes! Dating couples SHOULD read the Bible together.
That said, we go to the other side of our answer.
…but NO, Dating Couples Should NOT Rely Only on Doing Devotions Together.
While being able to reflect on God's Word together is great, we highly recommend that each individual in a Christian dating couple still keep his/her OWN QUIET TIME WITH THE LORD.
We are firm believers that we cannot have purposeful and Christ-centered relationships if we are not living purposeful and Christ-centered lives as individuals…and yes, we mean also for dating couples (and even for married couples)!
Having your own quiet time helps ensure that you are COMPLETE IN CHRIST, even apart from any other HUMAN PARTNER, and that HE ALONE is your source of everything. While there may be exceptions to this, here are some USUAL pitfalls for those who focus only on "couple quiet time":
Spiritual walk can be dependent on the partner; there is no firm personal conviction
Health of your relationship with the Lord is unstable, as it usually is driven by the health of your relationship with your partner (for example: if the couple is quarreling, quiet time with God is also ignored)
Complacency can develop as there is a tendency to rely on whoever is "stronger" in faith
So, Should Dating Couples Do Devotions Together?
Christian couples do this in different ways:
Some read a passage together and then reflect afterwards; they even follow a Bible Reading plan together!
Some read a Christian book and go through discussion questions after each question
Some ask each other about their learnings from the day, and share with one another
Some just have a weekly reconnect
Try them out, and find the frequency and method that works for you and your partner!
PIN THESE ON YOUR PINTEREST BOARDS!
If you liked this blog post, sign-up via our mailing list to get notified about new posts!