Despite having sincere motives and deep feelings, most people have a tough time preparing for their wedding vows. With that, we've decided to come up with some advice on what to say when marrying someone. Check out the rest of this post for essential tips for writing vows.
Tips for Writing Wedding Vows
Share some history…but take it easy.
We're writing this down as the first tip for writing your wedding vows – especially because this is something we've observed from Filipino / Tagalog weddings. Some couples tend to use the time for their vows to either share their entire love story or give a thank you speech to their soon-to-be spouse.
Before we continue, let us back up a bit. Why are vows important? They are a declaration of the couples' solemn promise to one another. Sorry to burst your bubble but a vow is not intended to be 'storytelling'. Better to reserve your detailed couple history for a wedding video that can play while the guests are waiting, or maybe on a printout that you can leave on guests' tables. An added bonus would be that you won't need to wonder how long should your vows be! You should be able to keep it short and sweet!
That said, it's not that you should ENTIRELY leave out everything in your intro and just to straight to your promises. It's actually good to start off your wedding vow with some context through a glimpse of your personal or couple history.
What can you talk about?
When determining what to say when marrying someone, you can share about your personal history by answering some of these questions:
What was your view on relationships and marriage before? How did that change upon meeting your soon-to-be spouse? Example: I used to think that relationships were not for me…
What did you use to pray for in your life partner? Did that come true, or did God surprise you with a different love story? Example: I remember 10 years ago how much I prayed to be married to my best friend…

You can also share about your 'couple history' by answering some of these questions:
What do you appreciate most about your soon-to-be spouse? Example: I used to think that someone who loves me should just accept me as I am, but your kindness and love to me has actually inspired to want to become a better man…
How has the road been for you both to get to where you are now? Example: We've gone through hills and valleys and it was definitely not a walk in the park, but it was a walk to remember.
What are you thankful for with your partner? Thank you for showing me how to…
Again, though it may be tempting to focus on this when writing your wedding vow, our tip: Keep it brief.

Make it personal.
One of the best things about writing your own wedding vows is that they can be made PERSONAL. You're not limited in what to say when marrying someone as you can sprinkle your own touch! Don't be afraid to write something that's uniquely you, or something very specific that it can even be an inside joke. Bonus: This would appreciated by your wedding guests especially if they are close to you as a couple & know your quirks!
For example:
In my husband's wedding vows – he included a quip about how he will be the one to take out the trash — which is an inside joke, since he knows how I'd love to do any other household chore except for touching garbage.
In my vows – I included a quip about how I promise to listen to his music (The Corrs, Barry Manilow, etc) — which is another inside joke that friends are aware of, since we have different tastes in music.
Go ahead, be fun and quirky! We should understand why vows are important and meaningful, but that doesn't mean there's no room for some humor and joy.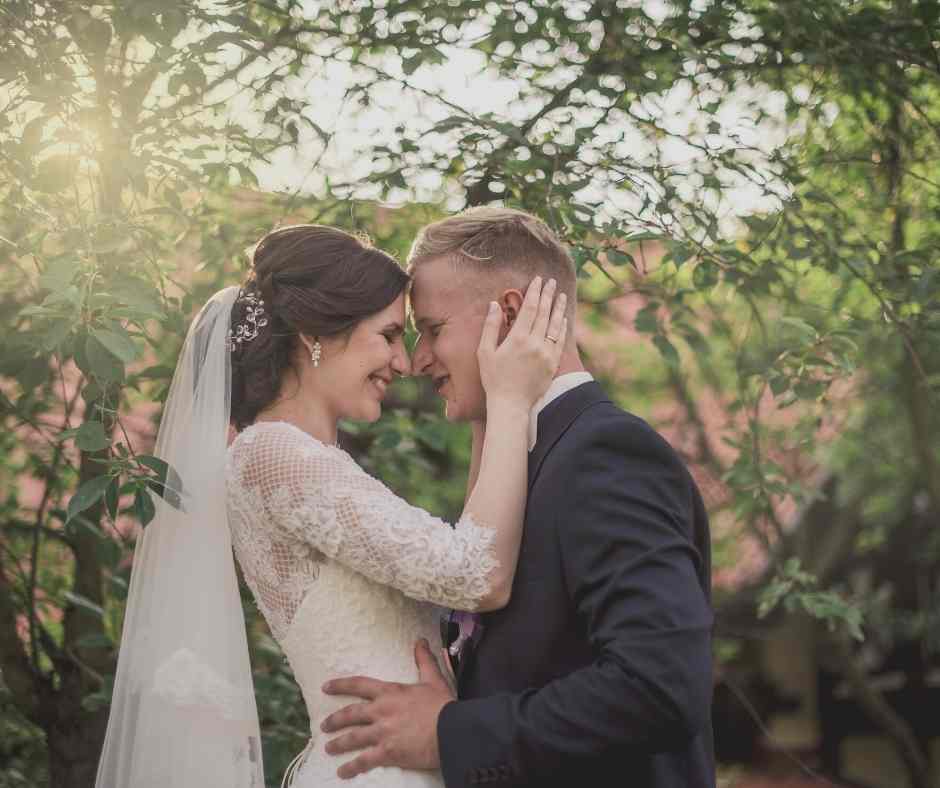 Say anything…but say what you mean.
Weddings are whimsical and can take you to an emotional high…but we're here to ground you a little and encourage you to make your promises realistic…but still hopeful. Some tend to make vows that sound good but are quite impossible to meet:
I promise NEVER to be mad at you.
I promise that I will NEVER hurt you.
I promise that I will ALWAYS be sweet with you and give you your needs.
Please raise your hand if you're a person who can actually do those three things. No hands raised? Thought so. Remember why vows are important? They are a "solemn promise". You wouldn't want to just make promises hastily and without the intent to fulfill them. Even worse, it would be terrible to base what to say when marrying someone on what you just think will sound nice or will go viral.
Some things to make your statement more realistic:
By God's grace I will…
I will do my best to….
While it's so awwwww-inducing to promise the moon and the stars — nothing says mature and steady commitment like having wedding vows that are "realistically hopeful".
PIN THESE ON YOUR PINTEREST BOARDS!
If you liked this blog post, sign-up via our mailing list to get notified about new posts!