As we shared in the latest episode of Redefining Us Live, we had a sender who shared her story of being in a "no label" relationship and how it impacted her life for years. Here's the full story:
This happened during my younger years while I was a part of our church youth group. I was 22 and praying for God's perfect will and waiting for my "knight in shining armor". When I first met Will, he was in simple white shirt and jeans and had an endearing smile on his face. For some reason, the thought, 'what if he is the one?' entered my mind. I immediately brushed off the idea thinking it was so silly of me.
A month later he attended our youth group and soon after that, we were together on a week-long mission trip to the mountain province. I was shy, reserved and often kept things to myself. On the contrary, he was loud, rowdy and was often the life of the party as he loved sharing funny jokes, to which I would laugh, eventually breaking the ice between us. He often took notice of me and was warm and caring towards me. This made me feel quite special thinking that out of almost 30 people in our group he would often have conversation with me. We had a productive and enjoyable mission trip.
Back in the city, our conversations/friendship continued. We would see each other at mid-week service and on Sundays during main service and youth meetings. At one point, he called me at work saying that he misses me and wanted to see me. We would meet up at church, talk and pray together. I would often encourage him, and we would thoroughly enjoy each other's company. We immediately became prayer partners. At one point he told me I was his E.F.- Eternal Friend. The rapport between us was evident. We would facilitate/host together youth events. We both have a calling to the mission field. I often dreamt of us ministering together. Looking back, they may have been soulish dreams (vs. God-dreams) as I thought constantly about him.
At the same time, during our mission trip, a few friends were teasing him and pairing him with Jill, who appeared to be interested with him. One day, he asked me, "Do you think Jill likes me?", to which I answered "yes"- based on my observations of how she was relating with him during our trip. He shared that Jill has invited him to come to her house. To hide my growing feelings towards him, I pretended that everything was okay with me, and even encouraged him "Go ahead and visit her. There's nothing wrong with that." He would give me regular updates of his visits that became recurring, until they became boyfriend-girlfriend. I was quite hurt when they did, but for fear that I would lose Will as a friend, I decided to pretend that I was happy for him.
Also, taking 2 Corinthians 4:18 out of context, I started thinking that this was just temporary and that eventually he would realize that I was God's best for him. As their relationship progressed, they often fought over the slightest issue. He would then compare how different our relationship was, compared to his relationship with Jill. He shared that whenever he was around me, he felt like a tree being watered by me with words of wisdom and encouragement, causing him to grow and flourish into a sturdy tree.
Up to this point, I was not sure if he regarded me simply as a sister/friend, or if he had any romantic feelings towards me. I did not dare ask questions. What mattered more to me is that he loved seeing me and spending time with me. Also, he would be vocal to some people about how special I was to him, even telling them, "Mahal ko yan", causing some to think that our relationship was more than friendship. At times, he would talk to me at the church lobby holding my hand and would sit next to me during the Sunday service.
One time, there was a missionary couple visiting our church, telling the congregation how there was a great need in Africa for workers. He then grabbed my hand and said:
When he would make remarks or jokes like that, I would be confused about the status of our relationship at the same time, I would cherish the thought that he regarded me in this way. Even then I continued to pretend that I regarded him simply as a good friend and a big brother. But deep inside, I was falling deeply in love with him.
Sometime later I began to notice that whenever Jill was around, he would avoid talking to me. I kind of hinted that Jill was jealous of the attention he was giving me. To avoid getting hurt any further, I decided to distance myself from him. I even prayed for God to send someone else so that I could get my mind off of him. In hindsight, I should not have prayed this prayer, because soon Jim, another youth from our church, started pursuing me, and without taking ample time to pray and wait on the Lord, to sort of find an escape, I said yes to Jim. I later told Jim about my relationship with Will, not realizing that this would cause him to be insecure and jealous about the latter. He advised me to avoid having any conversations with Will. Despite the warning Will and I would talk occasionally, when Jim was not around.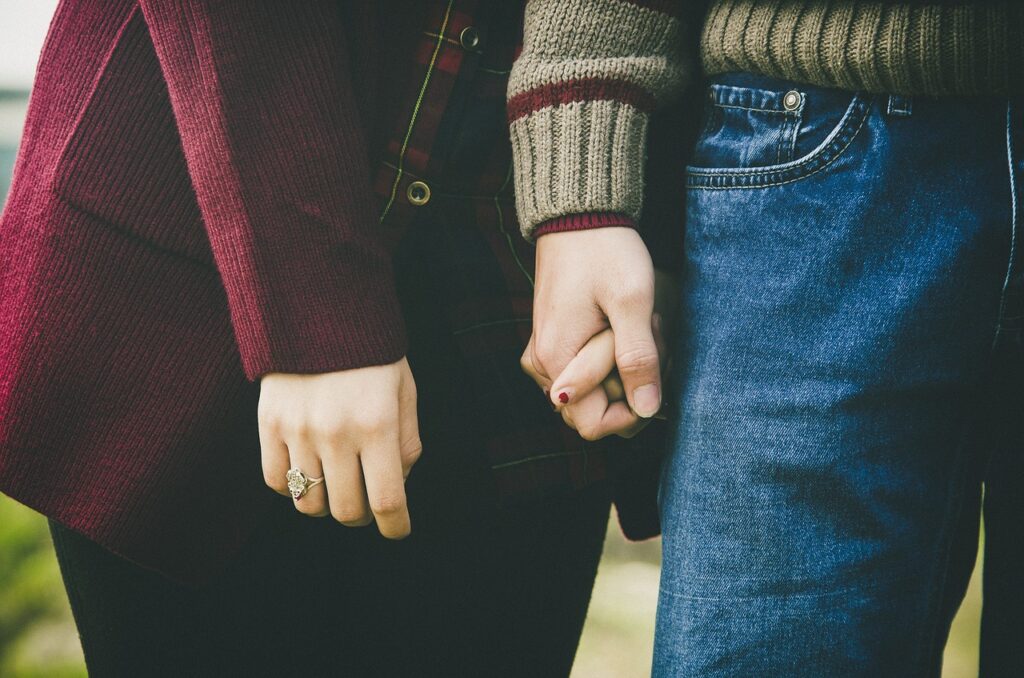 One time I had an opportunity to share my concern with an elderly American missionary. She said that I should be more open and transparent and let Will know about how I feel. However, having been raised from a conservative background, I've always thought that girls should never initiate this type of conversation with boys, and that boys should be the ones pursuing the girls. So, I did not heed her advice. After a few months, I learned that Will and Jill were getting married. I grieved quietly regretting that I did not have a chance to experience the "what could have been's", because I was not honest and transparent to Will about how I felt about him. I thought things could have turned out differently, if I only did.
The day before his wedding he came to my office to personally invite me. I told him I was not sure if I could attend. (Note: My boyfriend Jim has earlier suggested that I should not go, plus I didn't think I could bear the pain of seeing Will tie the knot – with someone else.) At this point, Will began singing to me the song "Kailangan Kita". He was half reciting and half singing, "Kailangan kita, kung gaano'y di ko alam. Basta't kailangan kita, magpakailanpaman…" He shared that if he had a way out, he would back out and run away from the wedding. I pretended to be okay and tough. Told him that he has to keep his word and push through with the wedding. I even assured him that he was going to be fine. Then, I asked him to leave me, as I didn't want him to see me cry.
I did not show up at his wedding. The day after, I saw them at church. Jill had swollen eyes (must have been from crying) and they both looked unhappy. I approached them and congratulated them. Will said that he was upset that I missed his wedding.
I told him "why now?" and quickly turned him away. Still trying to hide the pain I was feeling inside, I advised him that he should now say these words to his wife. I kept thinking, "should I have been more transparent and open to Will? Did I miss God's will altogether? Why only now? I had a thousand and one "Why's".
Their marriage was on the rocks since day one. In the coming months, Will would come to me to share his struggles and problems with his marriage. I would encourage him briefly then advise him each and every time to discuss and resolve matters with his wife. He would look at me straight in the eye and ask "Why?" "Why only now?" On one occasion, I told him that we should not go on talking this way. He asked me:"Why? Is it because you have feelings for me?". I decided to respond once and for all, "Yes". He felt so sorry for me.
He hugged me tight while I stood like a log, still trying to hold back not wanting to give away my emotions. I thought that having a boyfriend would distract me from thinking about Will. But as it turned out, almost 2 years into my relationship with Jim, I was still so much in love with Will, and Jim must have sensed it. He was often insecure about his place in my life. I tried to convince myself that it was time to move on and decided to give my 100% commitment to the relationship. However, God knew that deep inside I was unhappy, hurting and was settling for something that was not His best. In His grace and goodness, He intervened and provided a way out for me. Jim and I eventually broke up.
Then I left for the mission field. Will and kept in touch and I would meet with his family whenever I came home for furlough. We remain good friends to this day. I am happy to note that though their marriage went from bad to worse, they later reconciled and rededicated their lives to the Lord. Their family is now happily serving God.
As for me, I found God's best in the mission field. I am now happily married. God has been good and faithful to me. I often tell others that if I had to go through all the heartaches and pain, to get to God's best, I would gladly go through this path again.
For many years, thoughts of "what could have been" haunted me, not being able to completely let GO, until I fully surrendered to God's sovereign will, recognizing that His thoughts towards me are always for good and not for evil (Jeremiah 29:11-13), that He is able to orchestrate all things for the good of those who love Him and are called according to His purpose (Romans 8:28), and that His will is good, pleasing and perfect (Romans 12:2). All glory and praise to God!
Advice I would give to my younger self:
Obey and be led by the voice of the Holy Spirit. (Romans 8:14)
Seek godly counsel from Spirit-filled/led individuals.
Do not pretend, be honest and transparent about your feelings.
Don't assume. Ask questions, clarify things.
Never pray for someone who is already in a relationship, hoping they will eventually break up. Instead cut-off ties with them immediately.
Break off any soul ties which you may have consciously or unknowingly entered into with this person through words you've spoken or actions you have done. This will help free you from the things of the past and enable you to grab a hold of the future that God has prepared for you. (Proverbs 6:5; Isaiah 43:18-19)